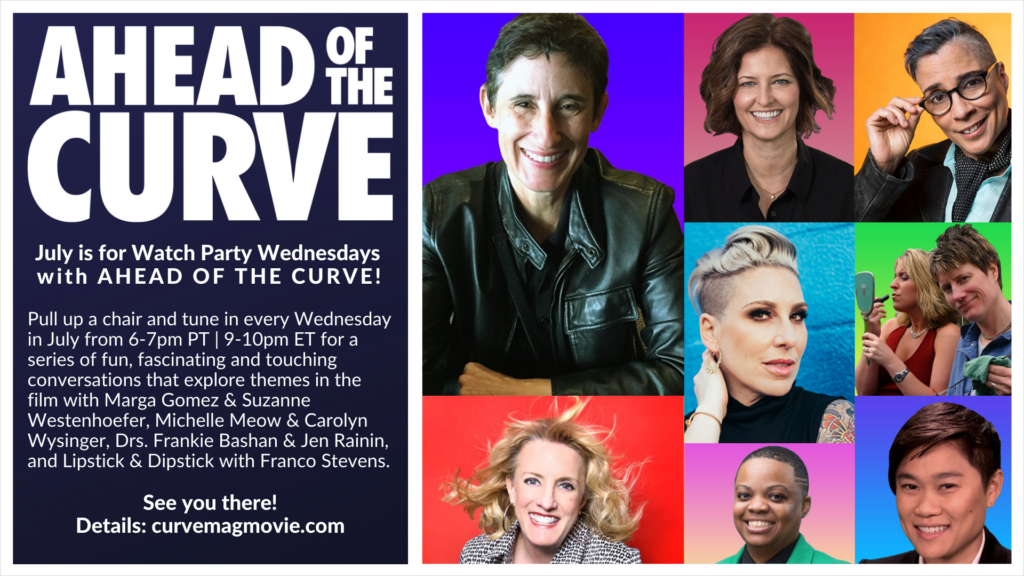 July is for Watch Party Wednesdays with AHEAD OF THE CURVE! Pull up a chair and tune in every Wednesday in July from 6-7pm PT / 9-10pm ET for a series of fun, fascinating and touching conversations that explore themes in the film with Marga Gomez & Suzanne Westenhoefer, Michelle Meow & Carolyn Wysinger, Drs. Frankie Bashan & Jen Rainin, and Lipstick & Dipstick with Franco Stevens. See you there!
---
Upcoming
July 28th – RSVP Now!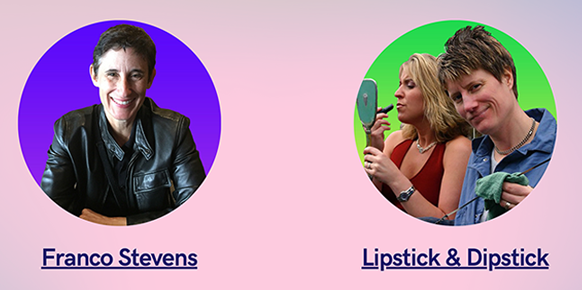 Join Lipstick & Dipstick (Gina Daggett & Kathy Belge) as they reminisce with Franco Stevens and review their favorite scenes in AHEAD OF THE CURVE, the new documentary that Forbes called "A celebration – made being a lesbian feel like something to revel in!"
Link to save your spot, RSVP now! :: link ::
---
Past Events
July 7th with Marga Gomez and Suzanne Westenhoefer! :: watch ::
July 14th with Michelle Meow and Carolyn Wysinger! :: watch ::
July 21st with Drs. Frankie Bashan and Jen Rainin! :: watch ::
---
Speaker Bios
Marga Gomez was Curve's first (and maybe last) nude cover girl. She is also a nationally recognized playwright and comedian based in the Bay Area. She is the winner of a GLAAD Media Award and one of the first openly LGBT comedians in the country. Her television credits include HBO, LOGO, PBS and Netflix Sense8. Her website is margagomez.com.

Some twenty years after Suzanne Westenhoefer left Amish Country and began her comedy career on a dare, she was voted "America's Funniest Lesbian" by Curve mag readers! Suzanne was the first openly lesbian comedian with an HBO Special and on Late Night with David Letterman – heck, she was even on Sally Jesse Raphael! Along the way she's pocketed several GLAMA awards for her comedy specials and continues to entertain audiences by telling the truth with absolutely no shred of subtlety. You can find her at suzannew.com.

Michelle Meow is a LGBTQI+ history geek, information sponge, and a lover not a fighter. She's the host and producer of The Michelle Meow Show on Progressive Voices Network and also produces programs around social justice with an intersectional lens at the iconic Commonwealth Club in San Francisco. She has interviewed thought-leaders including Olympic medalist Adam Rippon, NFL's first out LGBTQ coach Katie Sowers, and Sally Ride, the first American woman in space. Since 2006, Michelle has been a co-host of the San Francisco Pride Parade broadcast and she is the President of their Board of Directors. Her website is michellemeow.com.

People know Carolyn Wysinger as a very big, vocal LGBTQ social media personality and the host of The C-Dubb Show. She has worked fiercely in the LGBTQ community as a blogger for Autostraddle, Everyday Feminism, Black Girl Dangerous and Media Diversified. Her first book, Knockturnal Emissions, is on LGBTQ+ essential reading lists at several universities. She's served on the steering committee for Black Lesbians United and the board for the NIA Gathering for Same Gender Loving Women of African Descent and the BUTCHVoices National Conference. She was a commissioner of Human Rights & Relations for the City of Richmond and served on the Executive Board Member of the Long Beach Lambda Democratic Club, where she worked on the campaign to elect Long Beach's first out Mayor Robert Garcia. Currently, she is the Vice President of Programs for the El Cerrito Democratic Club and PAC Chair of the Lambda Democratic Club of Contra Costa County. Carolyn has facilitated workshops at BUTCHVoices, Black Lesbians United, BLAQout Conference, and Gender Spectrum and was recently elected Delegate to California Assembly District 15. She is serving her second term as the Board President of San Francisco Pride.

Dr. Frankie Bashan is a renowned relationship coach, dating expert, and licensed clinical psychologist with nearly two decades of experience working with couples and individuals. She's the CEO & founder of LittleGayBook.com, which focuses on personalized matchmaking for lesbians and bisexual women, and has successfully connected couples across the United States for the last decade. Her star turn as the relationship advisor on MTV's Are You The One got everyone buzzing and in 2020 she appeared on the TedX stage giving a talk on what it means to be sexually fluid.

In addition to launching the Kenneth Rainin Foundation in 2008 and serving as CEO since, Dr. Jen Rainin is an award-winning filmmaker. She founded Frankly Speaking Films with Rivkah Beth Medow in 2020. Jen focuses her filmmaking on building community, deepening understanding of social justice issues, and telling great stories. Visit franklyspeakingfilms.com.

Franco Stevens – Franco Stevens founded the most successful lesbian magazine in the world, raising lesbian visibility in a way that connected the lesbian community, created the lesbian market for advertisers, helped the lesbian community accept femme-identifying lesbians, changed the way lesbians are seen by the mainstream, highlighted the transgender experience, brought attention to lesbian families, raised awareness of attacks on LGBT rights, and amplified the work of lesbian activists.

Kathy Belge – Dipstick – loves her Alaskan Malamute Olive, traveling in her camper van Squeaky, and being the butch half of the famed duo Lipstick & Dipstick. She's freelanced as a writer and journalist since 2003, covering travel, culture, politics, trends and the LGBTQ community. She is co-author of Lipstick & Dipstick's Essential Guide to Lesbian Relationships and Queer: The Ultimate LGBTQ Guide for Teens. In addition to writing books and magazine articles, Kathy has a number of business clients for whom she writes website content, guest blogs, staff biographies, informational articles and all means of SEO friendly articles. Visit her at kathybelge.com.

Gina Daggett – Lipstick – is a storyteller with a creative, adventurous spirit, Gina Noelle Daggett is an award-winning writer who lives in Whistler, BC. Once the femme half of the sassy duo Lipstick & Dipstick from Curve Magazine, Daggett is also a novelist, freelance writer and filmmaker. When not working on her next novel or a story in the Vancouver Sun, Daggett can be found on the ski slopes, in her hockey skates or helping clients buy and sell real estate at Engel & Völkers Whistler. Visit her at ginadaggett.com.